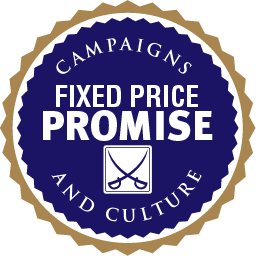 OUR TERMS & CONDITIONS
These apply to all our bookings You'll receive a copy with your booking confirmation
Your complete satisfaction is important to us. We always aim to be fair, reasonable and sympathetic, acting with integrity whilst fully meeting our legal and regulatory responsibilities.
Your tour contract
1.1. Your tour contract is with Campaigns & Culture Ltd. registered in England & Wales no. 10893099 ("C&C / we / us").
Our Booking Conditions
2.1. All bookings with C&C incorporate these Booking Conditions and are deemed to be accepted in full by you and all members of your party on whose behalf a booking is made. The person making the booking warrants that he/she has the authority of all other persons included in the tour to make the booking on their behalf.
2.2. A contract is made when we respond to your booking request and deposit payment by issuing a Confirmation Invoice.
2.3. Any additional arrangements requested by you (such as extra hotel nights pre or post tour) will be shown on your Confirmation Invoice. A contract for these additional arrangements will only be made when we confirm that these additional arrangements have been made.
2.4. If your Confirmation Invoice is incorrect you must immediately tell us. If there is an obvious error we reserve the right to correct it as soon as we become aware of it. If this is unacceptable to you, you may cancel and receive a full refund provided you have not yet travelled.
2.6. Your contract with C&C and any matters arising from it are governed by English law and subject to the jurisdiction of the Courts of England and Wales, unless you are resident in Scotland or Northern Ireland, in which case you may choose to bring your claim in those respective jurisdictions and be governed by their respective laws (but if you do not so choose, English law will apply).
Fixed Price Promise
3.1. Once we have received your booking, deposit and issued your Confirmation Invoice there will be no change in the price of your booking with us regardless of changes in exchange rates, taxes and duties levied by governments and regulators on us and our suppliers.
Departures Guaranteed
4.1. We won't let you down by canceling your tour because of a lack of numbers. Your tour will proceed but depending upon final numbers we may, at our sole discretion, amend tour transport arrangements to a premium vehicle driven by your tour guide(s).
Payment
5.1. All prices on our Tour Itinerary and website are per person in £ sterling unless otherwise stated. You will be advised of the price of the holiday before you book and this will be confirmed in your Confirmation Invoice.
5.2 Your deposit payment (usually £300 per person) may be paid by credit, debit or charge card or PayPal in your local currency and must be received by C&C within 5 days of your booking, but if a booking is made within ten weeks of departure the deposit plus final balance is immediately due.
5.3. The final balance is due to C&C in cleared funds ten weeks before the tour start date. You are responsible for meeting any fees levied by an overseas or non-UK bank, so that C&C receive the full balance shown on your Final Invoice. If the full balance is not received by C&C by the date due, we reserve the right to cancel your booking, in which case you will forfeit your deposit payment.
5.4. If you ask us to hold the booking pending payment and then you fail to pay, higher cancellation charges will apply, aligned with the revised date for payment.
Changes and cancellations made by you
6.1. A cancellation may be notified to us by telephone but must be followed in writing and signed by the person who made the booking. For your peace of mind you should use pre-paid recorded delivery or registered post. Cancellation will take effect from the date it is received by C&C. Cancellation only by telephone or e-mail is not acceptable.
6.2. All cancellations are subject to cancellation charges depending on the notice given before the tour commencement date. The cancellation fee is expressed as a %age of the total tour price:
More than 70 days notice, loss of deposit only
69-31 days 50%
30-15 days 90%
14 days or less 100%
6.3. If you wish to change your travel arrangements in any way, for example your choice of tour, or to transfer your booking to another person, we will do our utmost to make these changes. Where we are unable to assist you and you do not wish to proceed with the original booking we will treat this as cancellation by you.
6.4. Any request for changes must be in writing from the person who made the booking. You will be liable for any further cost we incur in making this alteration. These costs could increase the closer to the departure date so you should contact us as soon as possible.
6.5. Certain arrangements (such as named ticketing) cannot be changed after a reservation has been made and any alteration, even a name change, may incur a 100% cancellation charge.
6.6. If you cancel your booking in a double or twin room but are travelling with a companion who chooses to continue to participate in the tour, the companion will have to promptly pay to C&C the additional single occupancy price.
6.7. If you are prevented from taking the tour you have booked, you may transfer it to another person provided you authorise us in writing to make the transfer, and the person to whom it is transferred agrees to comply with the terms of the existing booking and you remain liable for making payment to us of all monies due. No transfer can be made within 14 days of departure.
6.8. We may make reasonable administrative charges for each amendment or transfer.
Our Tour Itinerary and Website
7.1. C&C confirms that information contained in our Tour Itinerary and on our website is given in good faith and believed correct at the time it is given. If any facilities referred to are withdrawn, altered or restricted we will advise you as soon as we become aware.
7.2. Some facilities may be withdrawn without notice to us, and we do not accept liability for this. We will use our best endeavours in the circumstances to provide appropriate replacements.
7.3. We expects guests to provide themselves with appropriate clothing, including walking shoes, rain coat, sun hat and sun protection. Where tour conditions involve more strenuous or longer periods of walking our Tour Itinerary includes recommendations for walking boots. It is your responsibility to be appropriately attired for your tour.
Changes made by us prior to commencement of the tour
8.1. Where a significant change to the accommodation or guide is unavoidable prior to departure, we will inform you promptly. You may then cancel and receive a refund of all monies paid, or accept an offer of alternative tour arrangements of comparable standard from us, if available (we will refund any price difference if the alternative is of a lower value). In addition, the C&C will pay the following amounts of compensation:
Notification before departure Compensation per person
More than 10 weeks Nil
Between 4 and 10 weeks £50
Between 2 and 4 weeks £75
Less than 2 weeks £100
Cancellations made by us
9.1. We will only cancel for reasons beyond our control or failure by you to pay the final balance.
9.2. We will give you as early notification as possible and you will then be entitled to a refund of all monies paid, or may accept an offer of alternative arrangements of comparable standard from us, if available (we will refund any price difference if the alternative is of a lower value).
9.3. Compensation will be paid as in Clause 8.
9.4. We reserve the right to terminate your tour without any obligation to refund nor alternative arrangements where, in our reasonable opinion, your behaviour is likely to cause danger, intimidation or annoyance to our suppliers, guests, staff and/or others or where we do not receive your payment in accordance with Clause 5.
Abandonment of your tour
10.1. If you choose, in the course of your tour, to abandon the arrangements made by us on your behalf and instead to make your own arrangements, C&C accepts no liability and no refunds will be made for the services you choose not to take unless we are at fault.
10.2. Abandonment of your holiday may also be deemed to have taken place if you miss your outward means of transportation through no fault of C&C, or through ill health, or by missing a departure during the tour, although we will assist in whatever way it can to make new arrangements for you.
10.3. You will have to pay for any costs incurred.
Our responsibility for arrangements not forming part of our tour
11.1. Where we add elements to our own tour arrangements at your specific request, such as extended stays, our responsibility is solely to ensure that any element booked with us is as described by us and is of a reasonable standard. We shall have no responsibility for any arrangements you make yourself.
11.2. Where you make additional arrangements, or ask us to do so as agent on your behalf, whether before departure or whilst on tour, and you make payment for this directly to the relevant supplier, your contract will be with that supplier subject to its terms and conditions and will be subject to the law and jurisdiction of the country where the supplier is situated. C&C accepts no liability for any negligence or breach of contract on the part of the supplier, nor for any failure in your arrangements, or any death or personal injury you may suffer. Some arrangements may contain an element of risk or require a good level of physical fitness and, if in doubt, you should make direct enquiries before deciding to buy and check that you are covered by your travel insurance policy.
11.3. If you, or any member of your party, suffer death, illness or injury whilst overseas arising out of an activity which does not form part of your package travel arrangements, we shall at our sole discretion, offer advice, guidance and assistance. Where legal action is contemplated and you want our assistance, you must obtain our written consent prior to commencement of proceedings. We limit the cost of our assistance to you or any member of your party to £1,000.
Your financial protection
12.1. As a Member of The Travel Vault, C&C is committed to consumer financial protection. In accordance with The Package Travel and Linked Travel Arrangements Regulations 2018 all passengers booking with us are fully insured for the initial deposit, and subsequently the full balance of monies as detailed in your booking confirmation.
12.2. The policy will also include repatriation if required, arising from the cancellation or curtailment of your travel arrangements due to the insolvency of C&C.
12.3. This insurance has been arranged by The Travel Vault in conjunction with Towergate Travel through Zurich Insurance PLC.
12.4. In the unlikely event of Insolvency of C&C please follow the procedures below:
Please contact Towergate Travel immediately on Telephone: +44 (0) 1932 334140 or by 
E-mail: tcs@towergate.co.uk 
Please ensure that you retain the booking confirmation form as evidence of cover and value.
Package Travel Regulations
13.1. The following clause applies where you buy a package holiday as defined by The Package Travel and Linked Travel Arrangements Regulations 2018. A full copy is available at https://www.legislation.gov.uk/ukdsi/2018/9780111168479/contents
13.2. (i) Where you do not suffer personal injury or death, C&C accepts liability should any part of your package booked with us not be as described in the tour details or not be of a reasonable standard. Subject to (iii) below, C&C will pay you compensation. Our liability in all cases shall be limited to a maximum of the original cost of your travel arrangements.
(ii) Where you suffer death or personal injury as a result of an activity forming part of your package booked with us and paid for in the UK, we accept responsibility, subject to (iii) below, but where such death or personal injury arises in the course of air travel, sea travel, rail travel or hotel accommodation, C&C's liability and/or the amount of compensation you will receive will be limited in accordance with the provisions of any relevant International Conventions, and C&C will have the benefit of any limitation of compensation and/or liability contained in these conventions as if it were the carrier in question, including, for example, the Warsaw Convention 1929 (as amended) and the Montreal Convention for travel by air and/or for airlines with an operating licence granted by an EU country, the EC Regulation on Air Carrier Liability No 889/2002 for national and international travel by air, the Athens Convention in respect of travel by sea (as amended by the 2002 protocol where applicable), COTIF, the Convention on International Travel by Rail and the Paris Convention in respect of the provision of accommodation. Further, your journey will be subject to the carrier's conditions of carriage, some of which may exclude or limit liability. Copies of the International Conventions and Conditions of Carriage are available on request.
(iii) C&C accepts liability in accordance with (i) and (ii) above except where the cause of the failure in your holiday arrangements or any death or personal injury you may suffer is not due to any failure on the part of C&C or its servants, agents or suppliers to use reasonable skill and care in making, performing, or providing, as applicable, your contracted holiday arrangements, or was your own fault, or is attributable to the actions of someone unconnected with your holiday arrangements or due to unusual or unforeseeable circumstances or events which could not have been anticipated or avoided by C&C or its servants, agents or suppliers even with the exercise of all due care. These events include, for example: war, threat of war, riot, civil strife, political unrest, terrorist activity, industrial disputes, alteration to the schedules of flights by airlines, natural disaster, fire, weather conditions such as hurricanes and floods, acts of any port, airport, governmental or public authority, technical problems to transport, aircraft grounding, nuclear disaster, epidemic or outbreaks of illness. Please note it is your responsibility to show that reasonable skill and care has not been used if you wish to make a claim against us.
(iv) It should be noted that acceptance of liability on the part of C&C referred to in (i), (ii) and (iii) above is subject to assignment by you of your rights against any individual or company which is in any way responsible for the failure of your holiday arrangements or any death or personal injury you may suffer.
If you have a complaint
14.1. Any complaint must be reported to C&C immediately so that all reasonable steps can be taken to resolve the matter promptly during your holiday. Our right to be able to try to remedy the situation and put things right during your holiday forms part of this contract and it is your obligation to inform us of any problem during your holiday and to continue to inform us so that we can remedy the situation for you.
14.2. If you fail to follow this simple procedure we will have been deprived of the opportunity to investigate and rectify your complaint whilst you were on holiday and this may affect your rights under this contract.
14.3. If your complaint is still not resolved, notification should be made to C&C in writing and for your own peace of mind by pre-paid recorded delivery within 28 days of the date scheduled for the end of your holiday. Disputes arising out of, or in connection with your booking that cannot be amicably settled may be referred to arbitration and/or mediation at the sole discretion of C&C.
Other travel arrangements
15.1. The Tour Itinerary, Confirmation Invoice and Final Invoice will confirm the start and end point of your tour. You are responsible for arranging your transport in order to commence your tour with us, and for your onward journey following the tour. C&C is not liable for your failure to reach the tour start point on time.
15.2. We recommend that you take all possible steps to confirm your pre- and post- travel arrangements. Cancellation, delay or denial of boarding does not entitle you to cancel your arrangements with us.
15.3. If you need to end your tour early, in order to make onward connections, please inform us in good time before the tour commences. C&C is not liable for your failure to make onward connections on time.
Data Protection
16.1. To ensure that your holiday runs smoothly, we need to use information about you and members of your party such as names and addresses, passport numbers, special needs, dietary requirements, etc. We have a Privacy Policy setting out how we manage this data.
16.2. We must pass necessary data to our relevant suppliers and to public authorities such as customs and immigration. We will only pass data, including sensitive information regarding disabilities or dietary and religious requirements, to suppliers responsible for your travel arrangements.
16.3. If we cannot pass this information to the relevant suppliers, in the EEA or elsewhere, we cannot provide your holiday. When you make this booking, you and all members of your party consent to this information being passed to the relevant people.
Special Requests, Requirements & Interests
17.1. If you have any special requests, (e.g. vegetarian or vegan meals) please let us know at the time of booking so we can notify our suppliers in good time.
17.2. If you have any special requirements (for instance if you suffer from food allergies) you must inform us at the time of booking so we can notify our suppliers in good time.
17.3. If you have a special interest in a certain location, historical event, regimental history, displays at a particular museum or an ancestor who was there please let us know at the time of booking. This will help us to make the tour as meaningful as possible to you, although we cannot adjust the tour itinerary, timings and focus unless this genuinely suits all participants.
17.4. We do not accept bookings that are dependent upon any special requests, requirements or interests being met.
Passport, Visa and Health requirements
18.1. You require a valid 10 year passport to countries featured in our tours, and this should be valid for 6 months beyond the conclusion of your trip. Please check your passport before departure, and give yourself time to apply for a new one if this is required. If the nationality on your passport differs from the country in which you currently reside, contact your local consulate to ensure you have the right documents for travel. Many countries require a copy of your passport to be made at each hotel.
18.2. Your specific passport and visa requirements, and other immigration requirements, are your sole responsibility and you should contact the relevant Embassies and/or Consulates before you book.
18.3. You should also consult your doctor for advice on health precautions in good time before you travel. It is your responsibility to ensure you are aware of all recommended vaccinations and health precautions in good time before departure. We are not aware of any compulsory health requirements applicable to British citizens taking any of the holidays featured in our tours.
18.4. For holidays in the EU/EEA, British citizens should obtain an EHIC (European Health Insurance Card) prior to departure from www.ehic.org.uk. An EHIC is not a substitute for travel insurance.
18.5. Vaccination and other health requirements/recommendations are subject to change at any time for any destination. Please therefore check with a doctor or clinic not less than six weeks prior to departure to ensure that you have met the necessary requirements and have the applicable information.
18.6. It is the party leader's responsibility to ensure that all members of the party are in possession of all necessary travel and health documents before departure. You must pay all costs incurred in obtaining such documentation. We regret we cannot accept any liability if you are refused entry onto any transport or into any country due to failure on your part to carry all required documentation. If failure to have any necessary travel or other documents results in fines, surcharges or other financial penalty being imposed on us, you will be responsible for reimbursing us accordingly.
18.7. The Foreign and Commonwealth Office publishes regularly updated travel information on its website www.gov.uk/foreign-travel-advice which you are recommended to consult before booking and in good time before departure.
Travel Insurance
19.1. It is essential that you and all members of your party be adequately insured (in case of accident, illness, cancellation/curtailment and/or medical repatriation). If, however, you choose not to be insured you agree to indemnify C&C against all costs, losses and liabilities which C&C may incur and which are not our liability under this contract and which would have been avoided had suitable insurance cover been taken by you.
19.2. The name and contact details of your insurers, and the policy number, must be supplied to us in advance of your tour. We are unable to advise on the suitability or completeness of policies.
Fitness to Tour
20.1. Our tours involve walking, which may include rough tracks, uneven and loose terrain, cobbles, ascents, descents and steps. Depending on weather conditions these may become slippery.
20.2. You should be able to stand and walk in these conditions for at least an hour without aid and without requiring a rest.
20.3. Some itineraries can seem quite busy for those used to sedentary lives, and some tours may include steep or awkward terrain, or longer walks, which may prove more demanding.
20.4. If you feel you may be unable to meet these fitness standards please contact us to discuss your concerns. We may be able to reassure you, or recommend a more suitable tour, or make special arrangements to suit you. We may refuse to carry anyone who has failed to notify us of any disability, infirmity or other restriction that requires special assistance.
20.5. If you suffer from any illness that would not normally preclude you from participating, but which may affect you on tour, this must be disclosed and accepted by your insurer, and disclosed to the us at the time of booking. We may require written confirmation of cover from your insurer, and will discuss arrangements with you before departure so that we have an agreed procedure to follow in the event of a crisis.
20.6. Subsequent to the commencement of a tour, anyone who in C&C's reasonable opinion proves to be unfit to travel, or slows the tour to the extent that it detracts from the enjoyment of others, or threatens the ability to fulfill the planned itinerary, may have their tour terminated, or may be offered the option to continue the tour without participating in all activities. No refunds or compensation will be made by C&C.
Publicity
21.1. C&C may utilise photographs and videos taken during your tour in its marketing. You give you permanent consent to appearing in such material without charge.
21.2. If you have an objection to this please inform us prior to the commencement of your tour, and we will make arrangements to exclude you from any such material.
Changes made by us at or following commencement of the tour
22.1. C&C may make changes to and switches in the itinerary with the intention of optimising your tour experience, including responding to weather conditions or the unexpected unavailability of certain suppliers, supplier's equipment (such as vehicle breakdown) or the illness of one of the tour party. We will amend the itinerary in order to make the best of a situation until alternative facilities can be arranged. Where feasible we will continue the tour as soon as practicable and aim to make good any activities missed, although no guarantee can be given.
22.2. We cannot accept liability where the performance of our contract is prevented or affected, or you otherwise suffer any damage, loss or expense as a result of force majeure. Force majeure means unusual and unforeseeable circumstances beyond C&C's control, the consequences of which could not be avoided, including but not limited to war, riot, civil strife, terrorist activity, industrial dispute, natural or nuclear disaster, fire, flood, adverse weather conditions or the threat of any of these.
v.2018.12