QUALITY HISTORICAL, BATTLEFIELD, CAMPAIGN & CULTURAL TOURS
Welcome to Campaigns & Culture
We provide truly unique, extensive and personalised historical, battlefield and cultural tours.
Our expert guided tours satisfy enthusiasts, from the most expert military historian through to novice, family and friends simply looking for a great and original holiday.
Intriguing military history is at the very heart of what we do, presented with depth, accuracy, insight and entertainment. We bring history to life!
We'll show you how to challenge accepted history with fresh interpretation, sharing the very latest knowledge and discoveries, many unknown to the history books.
Along the way we enjoy great food and hospitality with the best cultural heritage and inspiring landscapes that each region has to offer.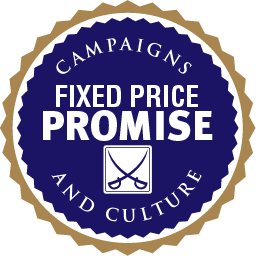 Your booking is fully price protected against changes in exchange rates, taxes and duties.
The Very Highest Standards
If you like memorable experiences, visiting fascinating places with a small group of like-minded people, in style and comfort, then we're just what you've been looking for.
Even if your knowledge of history is limited to an admiration for Les Miserables, Sharpe or Vanity Fair, you'll love our tours with the real stories and locations of the era.
Check our Testimonials page where you'll find the words and videos of our delighted tour guests. They rate us "OUTSTANDING" at what we do.
You'll find all of our scheduled 2019 tours below - or contact us about a Bespoke tour.
      TESTIMONIALS & VIDEOS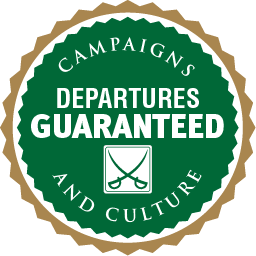 We won't drop your tour because of a lack of numbers. You'll enjoy an even more personalised tour!
W
ELLINGTON IN

P

ORTUGAL:

T

HE

E

ARLY

Y

EARS

P

ENINSULAR

W

AR

T

OUR

A

PRIL

/M

AY

2019
Travel from Lisbon to Oporto, visiting all the major and dramatic sites of Wellington's 1808 - 1811 Peninsular War campaigns across the beautiful heart of Portugal, visiting many UNESCO Cultural Heritage Sites.
Grit & glamour, intrigue, beauty & gastronomy, idyllic vineyards and ancient port houses. All in glorious spring colours.
Almeida, Belem, Bussaco, Coa, Coimbra, Douro, Fuentes de Onoro, Obidos, Pinhao, Roliça, Sabugal, Sintra, Torres Vedras, Vimeiro & more.
TOUR DETAILS
Nine Days / Eight Nights from £3,195
Saturday 27th April to Sunday 5th May 2019
or go Bespoke with a Tailor-Made tour
W
ELLINGTON

A

DVANCES

I

NTO

S

PAIN

P

ENINSULAR

W

AR

T

OUR

M

AY

2019
Terrible sieges, Roman bridges, wide plains and vistas, isolated fortresses, mountain passes, bloody battles, great victories, supreme logistics. Wellington's tentative and bold thrusts as Napoleon's armies were rolled back towards France.
UNESCO Heritage Sites and the great Ribera del Duero & Rueda Wine Regions.
La Albuera, Almaraz, Badajoz, Barba del Puerco, Burgos, Ciudad Rodrigo, Plasencia, Talavera, Toledo, Salamanca & more.
TOUR DETAILS
Eleven Days / Ten Nights from £3,995
Saturday 11th May to Tuesday 21st May 2019
or go Bespoke with a Tailor-Made tour
T
HE

F

INEST

W

ATERLOO

B

ATTLEFIELD

T

OUR

J

UNE

2019
One of the greatest battles of all time, the conclusive campaign of 1815 that shattered Napoleon's power, forging much of the Europe we know today. Epic history set in beautiful Belgian countryside.
Cutting-edge knowledge, unique itinerary, insights & access. 
Visit our Testimonial page to see how "Campaigns & Culture set the standard for Waterloo Tours!"
TOUR DETAILS
Six Days / Five Nights from  £1,795
Friday 14th June to Wednesday 19th June 2019
or go Bespoke with a Tailor-Made tour
T
HE

T

OUR OF THE

B

OOK!

T

HE

T

WO

B

ATTLES OF

C

OPENHAGEN

J

ULY

2019
Guided by author Gareth Glover, Nelson's Battle of Copenhagen in 1801 & Wellington's subsequent Siege of 1807 take in the Baltic coast, glorious Royal Palaces, working Gunpowder Mills and the Duke of Wellington's first European victory.
Our historic tour in and around Wonderful Copenhagen: The Happiest, Coolest & Cleanest City in the Northern Hemisphere!
TOUR DETAILS
Six Days / Five Nights from £2,995
Friday 19th July to Wednesday 24th July 2019
D
UNKIRK

& W

IDER

C

AMPAIGNS

1346-1945 S

EPTEMBER

2019
Dunkirk 1940 with much, much more. The beach, the canals, the dunes, the film, the memorials, the town, the wrecks, together with the dramatic wider campaign and the oft forgotten 1944/5 siege.
From the longbow victories of Crécy 1346 and Agincourt 1415, traversing the lowlands and hilltops of Flemish France and Belgium, we enjoy great military history, breathtaking art, stunning locations, unveiling layers of history, the founding of our Grenadier Guards and breathtaking Bruges.
TOUR DETAILS
Nine Days / Eight Nights from £3,195
Saturday 7th September to Sunday 15th September 2019
or go Bespoke with a Tailor-Made tour
B
ESPOKE

T

AILOR

M

ADE

H

ISTORY

, W

INE

& F

OOD

T

OURS
From the Wine & Port vineyards of the Douro, to the glories of Rioja, to the gastronomy of Belgium. All our tours combine great history, battlefields, culture, landscapes, food & wine.
We can plan and guide your private group on a tailor-made vacation specific to your dates and interests. It'll be a pleasure to hear from you.
TOUR DETAILS
B
URGUNDY:

D

UKES,

M

ONKS,

C

AESAR

& W

INE

O

CTOBER

2019
Burgundy, once the most powerful state in Europe, led by Philip the Bold, John the Fearless, Philip the Good & Charles the Rash. Now home to Europe's most precious wine region flaunting its finest colours in the Autumn.
From Rome v Gaul, through Medieval to Modern; Art, Architecture, Battlefields, Chateaux, Fortresses, Palaces & Vineyards.
expressions of interest now open for our 2019 tour
C
AVALIE

M

ERCER'S

W

ATERLOO

C

AMPAIGN
Exceptional revelations on this most famous officer, author of "Journal of the Waterloo Campaign". Covering the man, his life and his elite G Troop Royal Horse Artillery, we share unpublished material and game-changing facts on his role within the Waterloo Campaign.
Over 8 days we show you his cities, his countryside, his chateaux and his battlefields, taking in Bruges, Ghent, Brussels and the wider 1815 campaign.
go Bespoke with a Tailor-Made tour
2019 NAPOLEONIC ERA TOURS & MORE
Waterloo Battlefield Tours, Peninsular War Tours across Spain & Portugal, Napoleonic Tours, Nelson & Wellington's Copenhagen, Dunkirk, Crécy, Agincourt, Bruges, Ghent & Paris, Tailor-Made Private Guided Travel
      TOUR CALENDAR      
M
ALVERN

F

ESTIVAL

O

F

M

ILITARY

H

ISTORY
We are the Official Tour Supporter of Britain's only literary festival dedicated solely to Military History. Covering fiction and non-fiction, with celebrated keynote speakers, panel discussions with top historians and authors covering many of our favoured eras.
Our Robert Pocock chaired the 2018 Waterloo debate with great panelists Charles Esdaile, Alan Forrest, John Hussey and Jacqueline Reiter.
We were delighted to meet so many interested and interesting visitors throughout the October '18 festival. Look forward to seeing you there in 2019!
AWAITING 2019  EVENT DETAILS
visit www.enlightenmentevents.com
FAR MORE THAN JUST BATTLEFIELD TOURS
Landscape & Lifestyle, Art & Architecture, History & its Horrors, Food & Wine
Great History, Battlefields & Culture are at the heart of each tour, as we take in world famous heritage sights, and even more special places off the beaten track.
But we also have time for living today! That's why our tours often include features like local food tours and vineyard visits. Every day we include a good breakfast, a light lunch, then dinner with wine, varying in style day-by-day depending on our itinerary and locations.
Each of our quality 4* hotels are hand-picked, tried and tested. Extra days are available pre & post tour if you would like to stay longer. The perfect break for historical and cultural enthusiasts, friends and family.
      OUR QUALITY STANDARDS      
      TESTIMONIALS & VIDEOS