QUALITY HISTORICAL, BATTLEFIELD, CAMPAIGN & CULTURAL TOURS
Welcome to Campaigns & Culture
We provide journeys with real personality; truly unique, extensive and personalised historical, battlefield and cultural tours built on real knowledge and a sense of fun.
Our expert guided tours satisfy enthusiasts, from the most expert military historian through to novice, family and friends simply looking for a great and original holiday.
Intriguing military history is at the very heart of what we do, presented with depth, accuracy, insight and entertainment. We bring history to life!
We'll show you how to challenge accepted history with fresh interpretation, sharing the very latest knowledge and discoveries, many unknown to the history books.
Along the way we enjoy great food and hospitality with the best cultural heritage and inspiring landscapes that each region has to offer.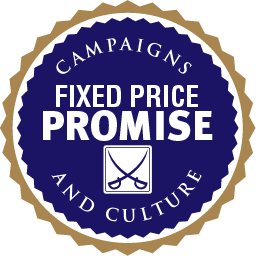 Your booking is fully price protected against changes in exchange rates, taxes and duties.
The Very Highest Standards
If you like memorable experiences, visiting fascinating places with a small group of like-minded people, in style and comfort, then we're just what you've been looking for.
Even if your knowledge of history is limited to an admiration for Les Miserables, Sharpe or Vanity Fair, you'll love our tours with the real stories and locations of the era.
Check our Testimonials page where you'll find the words and videos of our delighted tour guests. They rate us "OUTSTANDING" at what we do.
You'll find our latest scheduled tours below - or contact us about a Bespoke tour.
      TESTIMONIALS & VIDEOS      
      LATEST COVID19 CORONAVIRUS NEWS PAGE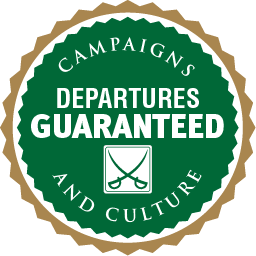 We don't drop or change tours because of a lack of numbers. We'll give you an even more personalised tour!
W
ELLINGTON IN

P

ORTUGAL:

T

HE

E

ARLY

Y

EARS

P

ENINSULAR

W

AR

T

OUR

A

PRIL

2020
Travel from Lisbon to Oporto, visiting all the major and dramatic locations of Wellington's 1808 - 1811 Peninsular War victories across the beautiful heart of Portugal, plus many UNESCO Cultural Heritage Sites.
Grit & glamour, intrigue, beauty & gastronomy, idyllic vineyards and ancient port houses. All in glorious spring colours.
Almeida, Belem, Bussaco, Coa, Coimbra, Douro, Fuentes de Onoro, Lisbon, Obidos, Pinhao, Porto, Roliça, Sabugal, Sintra, Torres Vedras, Vimeiro & more.
2020 TOUR DETAILS
Nine Days / Eight Nights from £3,295
Wednesday 15th to Thursday 23rd April 2020
or go Bespoke with a Tailor-Made tour
W
ELLINGTON

A

DVANCES

I

NTO

S

PAIN:

P

ENINSULAR

W

AR

T

OUR

M

AY

2020
w
ith

R

OBERT

P

OCOCK

& G

ARETH

G

LOVER
Great rivers, wide plains and vistas, isolated fortresses, mountain passes, victories and supreme logistics. Visit the locations of Wellington's bold thrusts into Spain from 1809 - 1812 as Napoleon's armies were steadily rolled back towards France.
Epic battlefields, magnificent cathedrals, unforgettable countryside, breathtaking gorges, UNESCO Heritage Sites and the superb Ribera del Duero & Rueda Wine Regions.
Alba de Tormes, La Albuera, Alcantara, Almaraz, Arroyo dos Molinos, Badajoz, Barba del Puerco, Burgos, Ciudad Rodrigo, Concepcion, El Bodon, Elvas, Garci Hernandez, Merida, Olivenza, Salamanca, Talavera, Toledo, Tordesillas, Trujillo & more.
2020 TOUR DETAILS
Fourteen Days / Thirteen Nights from £5,990
Saturday 2nd to Friday 15th May 2020
or go Bespoke with a Tailor-Made tour
T
HE

F

INEST

W

ATERLOO

B

ATTLEFIELD

T

OUR

J

UNE

2020
w
ith

R

OBERT

P

OCOCK

& A

NDREW

F

IELD
One of the greatest battles of all time, the conclusive campaign of 1815 that shattered Napoleon's power, forging much of the Europe we know today. Epic history set in beautiful Belgian countryside.
Cutting-edge knowledge, unique itinerary, insights & access. 
Visit our Testimonial page to see how "Campaigns & Culture set the standard for Waterloo Tours!"
2020 TOUR DETAILS
Nine Days / Eight Nights from  £3,195
Sunday 14th to Monday 22nd June 2020
or go Bespoke with a Tailor-Made tour
2020 NAPOLEONIC ERA TOURS & MORE
Waterloo Battlefield Tours, Peninsular War Tours across Spain & Portugal, Napoleonic Tours, Nelson & Wellington's Copenhagen, Dunkirk, D-Day, Crécy, Agincourt, Bruges, Ghent & Paris, Tailor-Made Guided Travel
      TOUR CALENDAR      
FAR MORE THAN JUST BATTLEFIELD TOURS
Landscape & Lifestyle, Art & Architecture, History & its Horrors, Food & Wine
Great History, Battlefields & Culture are at the heart of each tour, as we take in world famous heritage sights, and even more special places off the beaten track.
But we also have time for living today! That's why our tours often include features like local food tours and vineyard visits. Every day we include a good breakfast, a light lunch, then dinner with wine, varying in style day-by-day depending on our itinerary and locations.
Each of our quality 4* hotels are hand-picked, tried and tested, often with superior rooms. Where it makes a real difference to your experience we also use 5* hotels. Extra days are available pre & post tour if you would like to stay longer. It's the perfect break for those who care about the quality of their journey, for historical experts and novices, cultural enthusiasts, friends and family.
      OUR QUALITY STANDARDS      
      TESTIMONIALS & VIDEOS